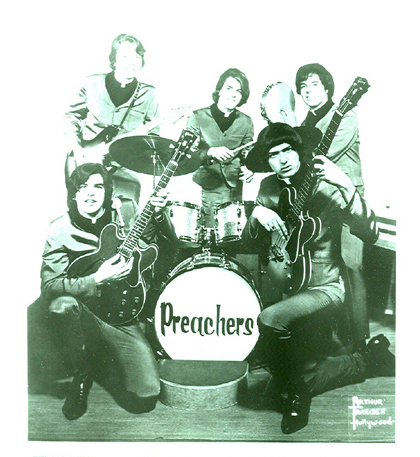 Welcome to The New Preachers , touted as one of America's memorable oldies but goodies. We are sizzling and smart in our newly revived adaptation of our former, sassy selves. And we have much to catch up on as we are joined by Mick with his solid drumming beat. So the next time someone asks "Who Do You Love?" You'll be saying its The New Preachers. And when they ask, "Who's writing all this terrific new music?" You'll start " Moanin" and say, "You mean that music with the great oldies pop and jazz sound? Why it's Richard Fortune, of course," as you slap the moron on his forehead. And when they ask, "Who's The Zeke with the beat?" You'll know it's Jim (Zeke) Camarillo. And when someone scratches his head and says, "I remember someone making a guitar cackle like a chicken." You'll remember ole "Chicken Papa" and you'll want to hear more… But, wait, I'm getting ahead of myself. Perhaps we should do a little past, present and future. And don't forget to get a little sample by clicking on a couple of our video links.
The '60s Preachers band featured Richard Fortune as lead vocalist, song writer and guitar and harmonica player. Jim (Zeke) Camarillo was known for that deep sound he got out of his bass guitar, and his antics in "The Zeke." Rudy Garza played key board and harmonica, Hal Tennant performed vocal and guitar, and Steve Lagana kept everyone on beat with his Drums. These specialists in '60s pop music got together from various groups in 1963. They launched their career at the "Blue Book" in Hermosa Beach . After packing that place 'till it's binder popped, they were picked up by a much bigger Club, the "CasBah" in the San FernandoValley, again performing to this den's capacity. Word got out to the local talent scouts, and they were signed by booking agent, Jerry Fonarow . Jerry got them an audition with Moonglow Records (you remember them, they were the first recorders of the Righteous Brothers ), and The Preachers were off and running on a fine career at one of the best and most progressive times to be in the business. The Wop-Bop-A-Lu-Lop '60s.
An early recording for the Preachers was "Who Do You Love" written by Bo Diddley. It has been recorded many times since, and is sometimes featured in movies or TV shows. Many have said the Preachers' recording was the best one of this continually popular pick.
As the Preachers began writing their own music, they developed a very powerful punch in a pop sound that predated and proofed the essence of the Rolling Stones and the Yardbirds.
Was the next titillating test Television? You bet. What do you think of "American Band Stand", "Shiveree," "Shebang," Lloyd Thaxton and Casey Kasem? The Preachers were there.
So, as Ricky Ricardo would say: "So Wha-Hapn?" Well, breaking up is so very hard to do – but – the Preachers weren't imPervious to stuPidity… Richard went with Group Therapy and later became lead singer in the Vejetables . Zeke Camarillo floated around and jammed with a Dewy Martin group which later became Buffalo Springfield . Later, Richard decided to contact Zeke and Steve Lagana who joined him in the Vejetables along with Frank Smith , lead guitarist, and they continued to sizzle in San Francisco. Richard's vocal volume was whipping up the Waves, Steve's drums were beating and bouncing off the Bay, and Zeke's bass battered windows from Daly City to the Presidio. They recorded ten songs as The Vejetables, including the fore-mentioned "Who Do You Love." This foursome toured the upper Northwestern States, with their super sound until Zeke zipped his bag for the last time and zapped himself back to LA where he began other pursuits. Richard and Steve continued to play with the Fields, the Standels and Buddy Miles, and had several more hits. The rest, as they say, is history…
In the spring of 2004, Richard called his old buddies to get the Preachers together for a re-union. All complied with this command performance in Burbank except one. Zeke had not picked up the bass in many moons, so he declined. But he could not say "No" to an opportunity to get together with the old group to celebrate Rudy Garza's sixty fifth birthday. All of the Preachers except Hal Tenant were there. Zeke bought a bass and practiced like crazy to catch up to these fabulous musicians who had continued to play throughout their lives. Richard continued to produce music and play professionally, and Steve Lagana continued to play with various groups. Rudy took up other professional pursuits, but continued to play with one group or another for recreation. Zeke had a lot of catching up to do. The Preachers were such a great success at this large party crowd in San Diego, they were encouraged to continue. In August of that year, Zeke got them together for a well attended party at a popular restaurant in Modesto, California, and they were smashing.
So who are The New Preachers? Richard and Zeke are joined by Richard's brother Mick continuing a strong musical heritage. Mick began on the accordion at 5, moved to his Mom's cocktail drum set at 10, and the organ at 13, and played trombone in middle and high school. He and Richard's parents were popular radio and nightclub entertainers in Syracuse, New York, and they later formed a band comprised of family members. Mick joined his family's band in his early teens playing parties and weddings. Mick's Mom, Dad, Sister, Brother Frank and Brother Richard also toured the north and southwest with various artists. Mick is an MCA recording artist who headlined with Heat, Blue Oyster Cult, Ronnie Montrose and Loverboy in Hawaii.
The New Preachers continue to get together and practice new sounds and ideas at Richard's studio and at Uncle's Rehearsal Studio in North Hollywood . There is a New S ound , a New Sizzle and a New Punch in the pop and jazz produced by these old pals. Richard's first new song sounds like a smash. Give a listen, you'll love it. There are more magic moments on the horizon for The New Preachers , so set up and take note.